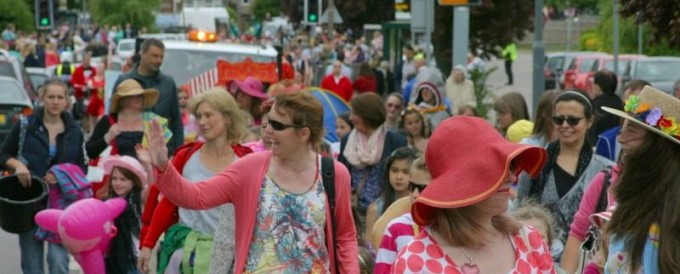 Posted By The Editor
June 10, 2018 - June 10, 2018
12:00 pm – 6:00 pm
Categories: Cruise Events
Cruise FM are pleased to confirm that we are supporting the charities of the Potters Bar Carnival this year.
Commencing with our sound system addition to the floats this year the procession starts at the Canada Life building in High Street / Mutton Lane at 12.30, goes along the High Street, along Quakers Lane and then joins the walkers, dancers etc in Mount Grace Road at 1pm, then into Darkes Lane, Mutton Lane and arriving at the Elm Court showground for 2pm. The Elm Court showground opens at 1pm for those wanting a good spot and closes at approx 18.00.
The day will be packed with the following appearing in the main arena: bands, majorettes, judo demonstrations, dance academies, displays etc etc.
As well as entertaining the crowd on the route with some funky tunes we are playing sounds in the Elm Court showground all afternoon and welcome your company for some laughs and a boogie.
Some of the usuals who have a stand at the carnival…. Come along and meet some of the great organizations of South Hertfordshire!

 

 

Police

Ambulance

Archdeacon Schools in The Gambia

King Charles the Martyr

St John's Methodist Church

Wroxham School Friends

Bentley Heath Cricket Club

4th PB Barbecue

Pony Rides

1st LH & PB Scouts

Costco

Hospital Radio

Cooperscroft

Prior Knowledge

Noah's Ark

Homestart Hertsmere

Peace Hospice Care

Donut Stall 

5PB Scouts – Beat the Goalie

5th PB Scouts – Beer Tent

International Scouts (Tea Tent)

Sharon Courtoy

Friends of Cranborne

Mount Grace PTFA

I Shin Ryu Ju Jitsu

reFresh

4PB Coconut Shy

Jefford

St Mary's & Scratching Post

Herts Band Academy

The Potters Bar Society

Sandy Art

PB Film Makers

PB Judo Club

PB Allotment

Cats Protection

PB Horticultural

Revelation Majorettes

Sainsburys

Potters Bar United

Amer

Hazels

Hertstoppers Cheerleading Club

NHS Blood

Youth Connexions

Angies Dance

Friends of RSPCA 

Battle of the Bands

PB Theatre Co

Friends of Ladbrooke

Leukaemia & Lymphoma

Revive Fitness

Furzefield Centre

PB ChildMinders

Tilbury Nursery

Laura Power

Shades of Midnight Band 

Inkas Craft

Ice Cream Van

Dacorum Majorettes

Rotary Club of Potters Bar

Potters Bar Childrens Centre

Guide Dogs for Blind

St Giles C of E Primary

Archant – Welwyn  Times

Carnival Cup Football

ATC

Love Your Doorstep

Northaw Scouts

Cupcakes & Cookies

A602 Hot Rods and Custom Cars

PB Community News

Silver Phoenix Explorers
Location

Potters Bar Carnival & Showground