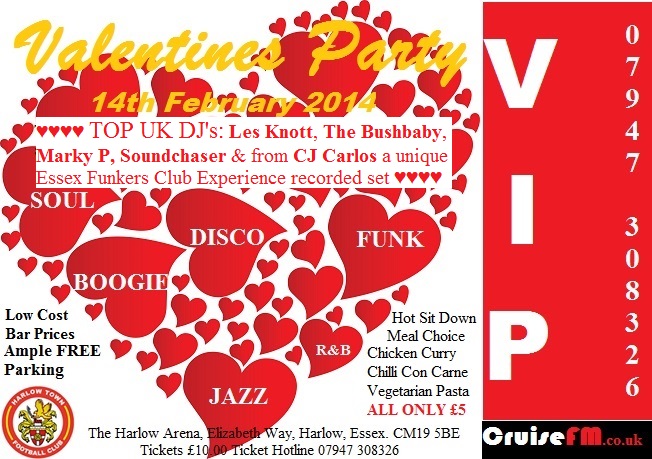 Posted By The Editor
February 14, 2014 - February 15, 2014
8:00 pm – 2:00 am
Categories: Cruise Events
Tags: Party, Valentines
Soul, Funk, Disco, Boogie, Groove and Jazz.
Essex Funkers & VIP @ Cruise bring you a loved up night of sweet soul sounds and great value food!
With sounds running across 3 rooms from 70's, 80's, 90's Soul Smashes and with low cost Bar Prices!
Food Menu,
The venue is putting on a superb menu of low cost meals to add a sit down to your boogie evening out:
Chicken Curry with Naan Bread ONLY £5!
Chilli Con Carne with  French Bread ONLY £5!
Vegetarian Pasta ONLY £5!
Where do you get the finest Soul Sounds and Fantastic Value Food as a sit down in one safe venue with free parking?
Call the booking line 07947 308326 for details and tickets and to reserve your seat at the table or use our secure online booking system links below.